TUTORIAL: SIGNS AND LANGUAGE
INTRODUCTION . ICON, INDEX AND SYMBOL . THE SEMIOTIC MODEL . DENOTATION AND CONNOTATION . PARADIGM AND SYNTAGM . ABSTRACTION . METAPHOR . METONYMY . MYTH
---
For humans, data include any patterns in a medium that can be interpreted as relevant to some context. Data gain meaning, they become information in the human sense, through interpretation. Information includes both data and the relevance of data in some context. --David Ritchie

Most signs have at least one normal, "common sense" meaning. This meaning, called the sign's denotation, is shared among many people and is the most widely used meaning of the sign. But signs also may have many different "subjective" meanings that arise from each individual's personal experiences. These are called the connotations of the sign.

1001

1003
For example, most people would agree that the symbol #frog# refers to a tail-less, web-footed amphibious animal -- this is its denotation and is the meaning that is listed for the term in the dictionary. On the other hand, the connotations of #frog# depend on each person's individual experiences and might include such as memories of a dissection experiment in biology class, or a story about a frog read as a young child, or just the rather vague concept "ugggh."
Where do denotations come from? Why does the string of letters #frog# denote an amphibian while the string #book# denotes a bound collection of printed papers? Why does this symbol,

, denote a male human being, while this one,

, denotes a female? Why does this symbol,

, denote the presence of money, while this one,

, denotes a question?
If each person made up his or her own denotation for every sign, people would not be able to understand one another. Thus, while people do have their own personal, connotative meanings for many signs, most signs have at least one meaning that is shared in common. This notion of shared, denotational meaning is one of the keys to understanding human communication.

1024
Thus, the denotation of a sign represents a agreement among a group of people that they will share that meaning of the sign among themselves. Meanings of this type are said to arise through social convention.
A sign may have more than one denotational meaning. In cases when a person must choose one meaning from a number of options he or she looks to the context of the sign to make the decision. For example, when seen alone this icon

usually denotes the human heart. But placed in thiscontext:

, its denotation becomes that of "love" -- as in "I love you."
Conventional meanings change over time. In fact the conventional meanings of signs in a society are under continual renegotiation as new possible meanings arise, are considered, and are accepted or rejected.
Thus, each of the lines in the Semiotic Triangle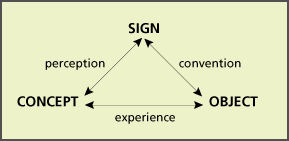 represents a two-way negotiation:
Perception -- the ongoing group of bodily processes by which human beings receive data about their environments,
Experience -- the memory of previous perceptions and concepts, which is constantly being altered or "updated" by new experience,
Convention -- the constantly changing, social "rules of meaning" that unify groups of people within their communication environments.
The semiotic model helps to explain how communication works as an interactive process. The following sections look more deeply into the complexities of semiotic theory.

In 1950 Roman Jakobson introduced a theory that considers the way that spoken language is put to use in human communication. This model of communication function consists of two layers of description -- one that describes the various elements of language use, and one that shows what humans do with the language when they use it.

It is interesting to compare this model to the semiotic model. Although they both focus on how human communication becomes meaningful, their approaches are very different.
---
INTRODUCTION
Human beings recognize patterns of information and organize them to generate meaning. Collections of these organized patterns form the languages that humans use when they communicate.

DENOTATION AND CONNOTATION
This section investigates how the semiotic process gives rise to both public and private meanings.

PARADIGM AND SYNTAGM
This sections presents the structures and processes by which individual signs are organized into more complicated, grouped signs.

ABSTRACTION: METAPHOR, METONYMY, MYTH
This section investigates some of the ways that signs help humans overcome the limitations of their perceptions.

---