HFCL GLOSSARY S
---

. SELF . SELF-DISCLOSURE . SEMIOTICS . SIGN . SOCIAL CONSTRUCTION OF REALITY . SOCIETY . SPEECH . SPEECH ACT THEORY . SYNTAGM . SYSTEM .
---
SELF [HFCL TUTORIAL]
The individual human being. Human communication is said to originate within the minds of individual selves.


---
SELF-DISCLOSURE [HFCL TUTORIAL]
The act of providing others with information about oneself.


---
SEMIOTICS [HFCL TUTORIAL:]
Semiotic theory explains the process by which meaning arises during the perception and interpretation of sensory data. There are a number of variations of the model, however the semiotic triangle is probably the most common. The semiotic triangle model include three elements:
a perception of something that exists in the physical world,
an object or concept to which the perception is said to refer,
a thought, image or concept that is formed in the mind as a result of the perception and which relates to the object.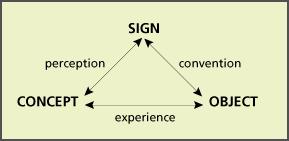 It is this relationship, present among the elements of the many signs that human beings constantly encounter, that forms the basis for the patterns of meaning that develop in human communication. Models involving the use of signs have been developed by a number of semiotic theoreticians, most notably, Saussure and Pierce. See also Barthes, Eco.

Semiotic approaches to the analysis of communication texts often begin by first identifying the paradigms involved. The following is an example of a [paradigmatic semiotic analysis]. More complex semiotic analysis focuses on the changes that occur in the structure of the sygntagms over time. The following is an example of a [syntagmatic semiotic analysis].